Our company is proud to provide a wide range of exceptional services to our valued clients. With years of experience under our belts, we have developed a reputation for delivering top-notch results in a timely and cost-effective manner. Our team of skilled professionals provides customized solutions that meet the unique needs of each client. Whether you require assistance with project management, consulting, or any other business-related service, we have the expertise to help you achieve your goals.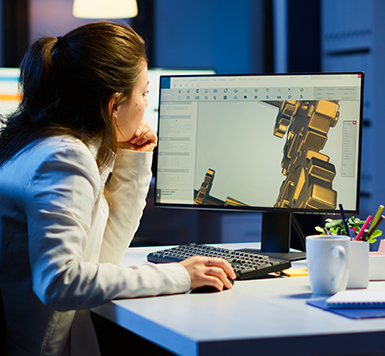 Logical Solutions is a team of highly skilled engineers with a wealth of experience in 3D CAD modeling. Our expertise spans across a range of industries, including aerospace & defense, automotive, heavy engineering, machine design, and medical. 
We pride ourselves on our responsiveness to customer needs and our proactive approach to issue tracking and problem resolution. Our goal is to build customer confidence by providing comprehensive support and expertise that our clients require. At Logical Solutions, we understand the importance of precision and accuracy in all our projects. We are committed to delivering high-quality results that meet or exceed our clients' expectations. Our team works tirelessly to ensure that every project is completed on time and within budget. 
The engineers at Logical are highly qualified experts in engineering and provide a comprehensive range of analysis and simulation solutions for product development. Their vast experience, focus, and commitment ensure that our customers receive valuable services that aim to delight them. Our Analysis and Simulation team of Engineers has over 20+ years of experience in FEA and related numerical methods. Each analyst is equipped with industrial experience and exposure to provide world-class mechanical analysis services.  
Our analysts have extensive experience creating virtual representations of components and systems that simulate real-world behavior under various complex loads and constraints. The results of this analysis help in the design process and identifying and eliminating flaws in the design. Our team is highly experienced in conducting such analyses and can use their understanding of the physical aspects of the problem, coupled with their software tool handling abilities, to conduct a thorough analysis and derive reliable results.  
Our Analysis Team is well-versed in the theoretical aspects of numerical methods applied to the proper representation of the complete 3D-Model with appropriate 1D, 2D, axisymmetric, and 3D finite elements to identify the essence of any problem.
SOLIDWORKS Product Data Management (PDM) streamlines the storage of all your engineering data and associated files. This results in a significant reduction in the time you spend searching for parts, assemblies, and drawings. Additionally, it helps you drive design reuse. As part of the SOLIDWORKS suite of product development solutions, which includes design, simulation, sustainable design, technical communication, and data management, EPDM provides a central, indexed repository for fast information retrieval. It offers version control for minor changes and major design revisions to prevent data loss. Moreover, it integrates workflows to automate your design process for more efficient review and release of final designs.  
SOLIDWORKS EPDM can be implemented quickly compared to other data management solutions. It can scale from small workgroups to hundreds of designers located in offices anywhere in the world. 
Product Data Management Services We Offer
SOLIDWORKS Subscription Services
Optimization investment is SOLIDWORKS with live technical support, exclusive certification opportunities, include SOLIDWORKS visualize and SOLIDWORKS CAM, and the latest feature updates, in one easy package 
Stay Current. Stay Competitive.
The SOLIDWORKS Subscription Service Program gives you immediate access to new SOLIDWORKS software releases and upgrades, enhancement request privileges, live technical support, and comprehensive online resources to ensure you get the most from your 3D design experience.
Maximize Your Investment with SOLIDWORKS Subscription Service
Note: If you are a student, educator, or researcher, please contact our Academic Sales team.